---
ROOF ACCESSORIES
Metehe sells the products and accessories it produces for all-sized buildings to consumers and business customers.
Our experienced sales personnel will help in selecting roof accessories, and they will provide instructions for the installation of the products.
Metehe has a wide selection of roof accessories. By acquiring the metal flashings, installation accessories, ladders, snow guards, roof bridges, gutters and roof pass-through components from the same supplier, you will ensure the compatibility of the products for the selected roof. Uniform flashings and conforming roof safety products finish off a building, whether it is a house, outbuilding, shoreside sauna or an industrial warehouse.
We also manufacture custom-ordered flashings according to customer dimensions, either coated or galvanised. Custom-ordered flashings are used, for example, for the joints of windows and doors on facades, various louvres and in multi-shaped roof sites.
PASS-THROUGH SERIES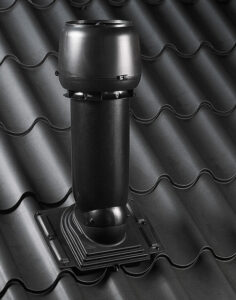 Our selection also offers VILPE's pass-throughs and if necessary, as an authorised retailer, we will also deliver other pass-through series and products in VILPE's selection. Pass-throughs are available in roof colours, warehouse colours 11 Spruce green, 23 Dark grey, 29 Red, 32 Dark brown, 33 Black and 750 Brick red.
Different Metehe roofing sheets have their own installation series, and a seam roofing series with a jointing compound can be used as a retrofitting for felts roofs.
ROOF WALKWAYS AND SNOW GUARDS
A roof walkway allows safe access to, for example, the chimney and a snow guard keeps snow away from the sites of access paths and entrances. The roof safety product series always include all the necessary installation accessories together with instructions, warehouse colours 11 Spruce green, 23 Dark grey, 29 Red, 32 Dark brown, 33 Black and 750 Brick red.
LADDERS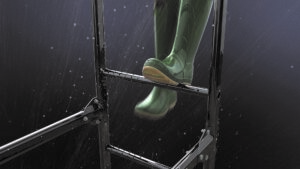 It is easy to select the right and appropriate options from the ladder series for wall and roof ladders, emergency exit ladders and side ladders. The standard dimensions for ladder frames are 2.7 m and 3.3 m. Ladder frames with different sizes can be connected to each other due to the reductions on the ladder frames. The joints are secured with bolts. Warehouse colours 11 Spruce green, 20 White, 23 Dark grey, 29 Red, 32 Dark brown, 33 Black and 750 Brick red.
RAINWATER SYSTEMS
Our selection includes gutters, downpipes and accessories, warehouse colours 20 White, 23 Dark grey, 32 Dark brown and 33 Black. In addition to warehouse products, we also deliver other rainwater systems and accessories, if necessary.
The rainwater system consists of 125 mm half round gutters and 100 mm round and smooth downpipes together with accessories. The material of the parts is a high-quality steel sheet metal, which has been coated on both sides. The standard lengths of the gutters are 4 m and 6 m, and inner and outer corners for the gutters are also available. The gutter can be installed with inner or outer brackets according to straight or diagonal eaves boarding. The gutters, downpipes and accessories are available directly from our ready-made warehouse.
SOFFIT PANELS

The tidy and colour-ready profiled soffit panels have been coated with a durable and easy-to-care warranty coating. The panels are manufactured as two models with the widths of 500 mm and 660 mm. The standard length of the panels is 2,800 mm, standard colour 20 White. Metehe's perforated soffit panels efficiently prevent rodents and other pests from accessing the intermediate roof via the eaves, while maintaining the ventilation of the eaves.
No products were found matching your selection.